A few months back, in June 2015, I went to Dublin for a few days, and that meant flying with a well-known (or perhaps infamous) low-cost Irish carrier from Gatwick.
Being a miser, I wanted to figure out what would be the cheapest way for me to reach Gatwick Airport from my flat. There are so many fares, and it can be quite confusing as the following calculations will make clear. The most convenient route would have been taking the bus to Clapham Junction and getting on the train, but that would have cost me a single bus fare (£1.50) and an Anytime single train ticket (£11.00), i.e. £12.50 for the journey.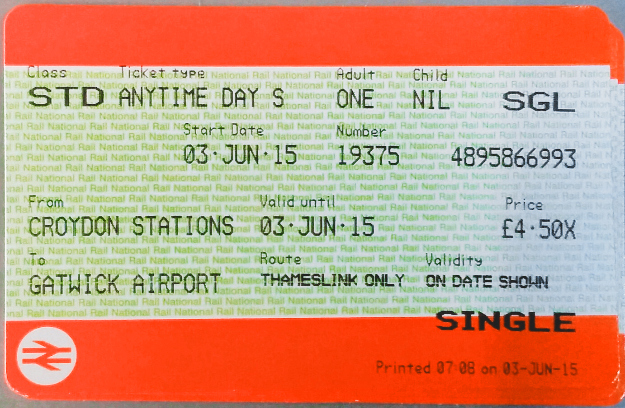 My closest London Underground station is Southfields, so a cheaper way is to travel from Southfields to Wimbledon on the District line, then get on a train to Clapham Junction, take another train to East Croydon, all on Oyster pay-as-you-go (zones 3 to 5 via zone 2: £3.40 peak; £2.40 off-peak), then hop off at East Croydon, and buy a single ticket from East Croydon to Gatwick Airport valid only on Thameslink services (£4.50 Anytime; £4.40 Off-Peak) and not on Southern trains (which costs £5.20). I managed to touch in with my Oyster card before 6:30 am, therefore I was travelling off-peak between Southfields and East Croydon via Wimbledon and Clapham Junction, and my fare came up to £6.90. And that is not a trivial difference.
An even cheaper fare would have been taking the train to West Croydon instead of East Croydon (a single fare on Oyster pay-as-you-go is £2.70 peak and £2.10 off-peak), and walk across from West Croydon to East Croydon, which are not too far apart, but as I am always a little anxious and stressed about getting to the airport in good time, I was not prepared to do so. If I lived close to Wimbledon station, for example, I could have taken the tram from Wimbledon to East Croydon which would have cost £1.50, and then a Thameslink train at £4.50.
Breaking the journey at East Croydon may be a good idea for travelling between London Victoria and Gatwick Airport, especially if you are not carrying too many pieces of luggage and you have not booked tickets in advance. Gatwick Express, a non-stop service between London Victoria and Gatwick Airport, costs £19.90 or £17.70 when bought online at www.gatwickexpress.com. The Anytime fare on Southern services costs £15.30, and the Advance fare £11.00. The cost of travel between London Victoria and East Croydon on Oyster pay-as-you-go is £4.90 peak and £3.10 off-peak. In other words, travelling on a Southern service between London Victoria and East Croydon on Oyster pay-as-you-go during the peak period (£4.90), and on a Thameslink service between East Croydon and Gatwick Airport (£4.50) can make a difference.
Alternatively, it may be cheaper and more convenient to travel on Thameslink, which serves stations such as St Pancras, Farringdon, and Blackfriars in London and Gatwick Airport, without the need to break the journey at East Croydon: the fare between London stations and Gatwick Airport is £10.20 Anytime and £7.90 Off-Peak. Southern services to and from London Bridge are cheaper than London Victoria in that a single costs £9.40 Anytime; Thameslink services from London Bridge are more expensive than Southern at £10.20 Anytime though much faster. If you are starting or ending the journey with London Underground, whichever London station you arrive in, then I would go for the cheapest ticket: after all London Victoria and London St Pancras are only 7 or 8 minutes on the Victoria line, and London Victoria and Blackfriars about 9 minutes on the District and Circle lines.
Cheaper tickets are often only valid on certain routes, certain train operating companies, and on certain trains, so it is very important to ensure that you have the right ticket for the journey. It must be daunting for first-time visitors to London to understand this byzantine fare system, but a bit of research can help to cut down the train fare quite substantially.
Transport for London (tfl.gov.uk) and National Rail Enquiries (www.nationalrail.co.uk) are the two main websites to consult when figuring out the best fare. The train operators have their own websites: Gatwick Express (www.gatwickexpress.com); Southern (www.southernrailway.com); Thameslink (www.thameslinkrailway.com).