Bills, more bills, pizza delivery adverts, taxi adverts, these are the things that usually get shoved through my door. Recently there was the following: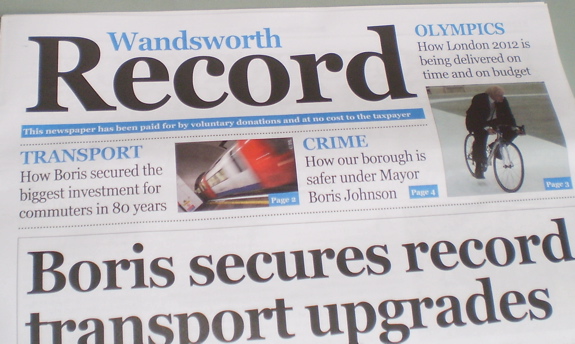 s
It looks like a newspaper but it isn't, even though it calls itself such. The clue is in the line that states: This newspaper has been paid for by voluntary donations and at no cost to the taxpayer.
There is another clue in that this 'newspaper' is very positive on Mr Johnson's achievements as Mayor of London, and it seems as if he has the perfect solution to any problem London has or may have.
Any lingering doubt would have disappeared after turning the page.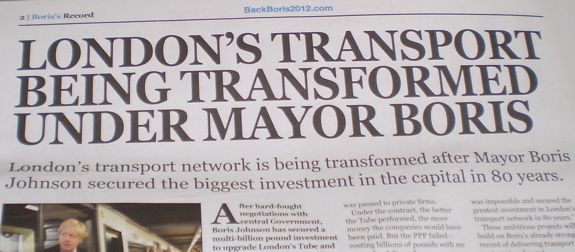 BackBoris2012.com is printed at the top of the page.
I think both Mr Livingstone and Mr Johnson have been good, credible Mayors of London, and they will contest in an election next year. So there will be a long campaign ahead, and doubtless there will be more leaflets.
As far as I can gather, this 'newspaper' was not commissioned directly by Mr Johnson or his campaign. Regardless who commissioned and produced this sheet, I'd have preferred a format that less mimicked a newspaper, and calling it something else, such as a newsletter, as well as being upfront about its support of Mr Johnson. It feels like misrepresentation.