If the prime minister's hastened return from his holiday was meant to reassure the public, then it has failed. Many places in London are braced for another night of rioting and looting. There were much fewer people out in the streets, and there is a lot of tension and fear.
Clapham Junction: 12:30
Among the places that were looted and torched last night was Clapham Junction. The Debenhams in a lovely building that formerly housed Arding and Hobbs was looted extensively, and a shop opposite was torched.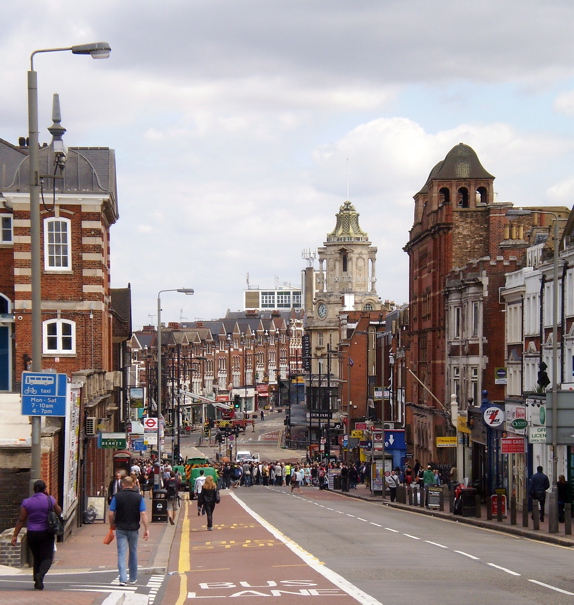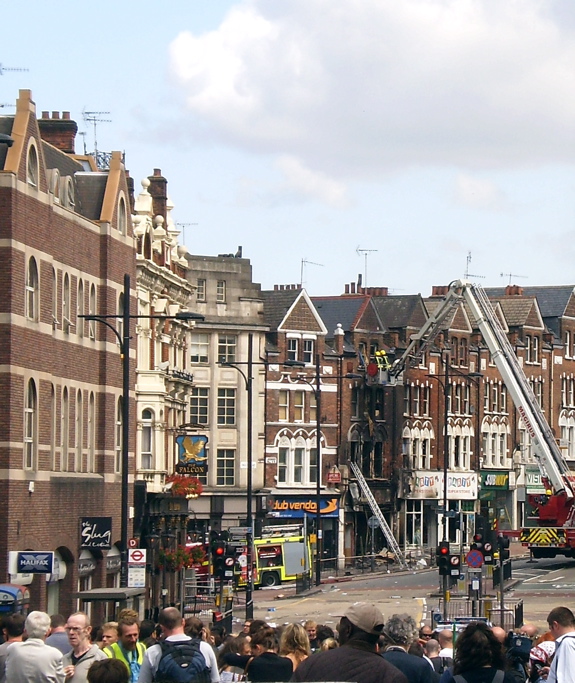 There were many people outside the station who volunteered to clean up, armed with brooms and brushes. However, the roads were still closed by the police to carry out forensic works.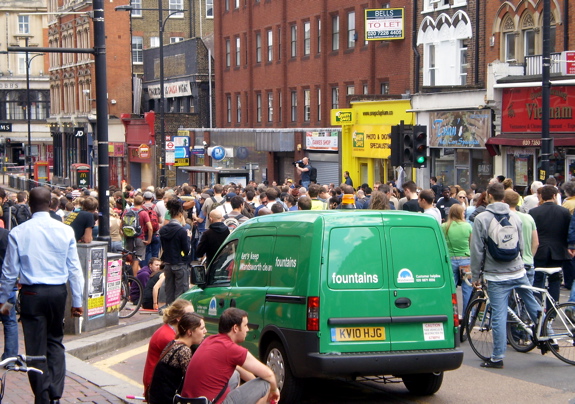 There was visible jitteriness among the shopkeepers in the station. A large crowd had formed just outside the station and voices were becoming louder. Marks and Spencer brought down the shutters for a few minutes, and re-opened after realizing that there was no problem. A few CSOs (community support officers) were deployed in the station and nearby, but they were not equipped to deal with riots. At one point, a number of CSOs were walking to one direction, looking very grave and glum, and mumbling about 'things kicking off'. Though it seemed to have been a false alarm, it was perhaps representative of the uncertainty fuelled by rumours, and fear resulting from three consecutive nights of rioting.
Wimbledon: 13:15
Wimbledon is an affluent area in south London, and as such not immediately associated with deprivation or rioting. However, there was an air of unease. Shops were closing for the day. Workers at Eleys of Wimbledon, a department store, were boxing the wares and clearing the windows. Some shops were boarded up. There must have been some sort of intelligence, as the second picture below demonstrates. What will happen after 3:30 PM? One shudders to think.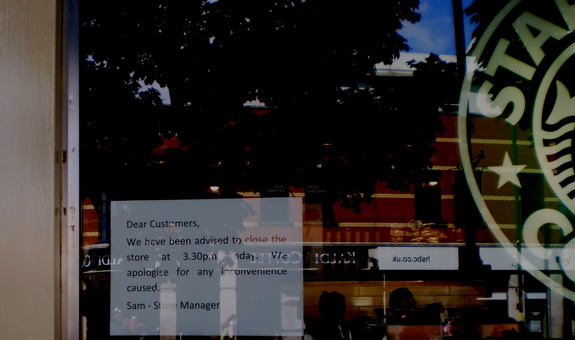 Southfields: 13:45
Shops were open in Southfields, but some businesses were considering about closing early. There are a few estates nearby, but like Wimbledon, it's not one of the places that people would associate with a high risk of riots. I went to a shop, where the owner was angry, fearful and resigned. But above all, there was utter incomprehension. Why?