What a strange year 2016 is, as three moveable feasts and events coincide today, Sunday, 27 March 2016, and by that I mean Easter, the start of British Summer Time, and The Boat Races.
As I am not Christian, Easter holds no personal religious significance to me. It may not be in my liturgical calendar, but it is important in my calendar of the seasons as it were, as Easter is a kind of messenger telling me that spring has arrived.
I do not adjust well to different time zones: I like travelling, but I suffer from jet lag. The clock going forward an hour may seem insignificant, but it isn't for me, and it takes me a while to get used to it. Yet it is a welcome sign of spring.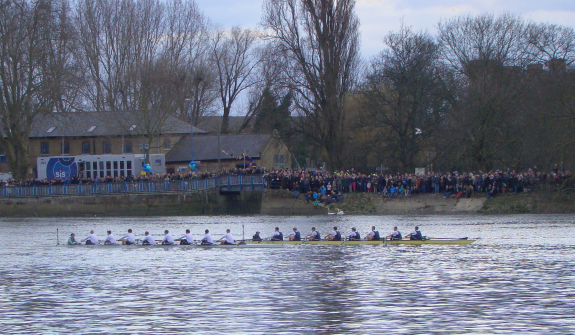 The 2013 Boat Race: seen from Bishop's Park, Fulham (the Middlesex side).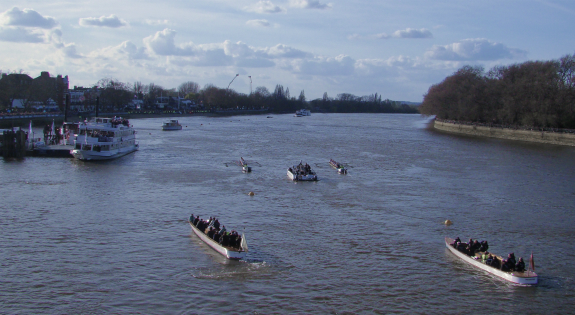 The 2015 Boat Races: seem from Putney Bridge, as the boats wait for the start.
Living quite close to Putney, I can more or less decide on a whim to see the start of The Boat Races (now rightly plural). To follow the races from the start till the finish, television is far better than standing on Putney Bridge on in Bishop's Park, as boats disappear from view quite quickly. The Boat Races are the first sporting event that I usually go to the venue as a spectator, thus a sign of spring for me: the other sporting events are a Test at Lord's (if the match goes on to the fifth day) and The Championships at Wimbledon and they essentially define summer for me.
The arrival of spring each year is a process, a transition, and it does not happen on a single day. There are often promising early days that seem to herald spring, yet other days when winter comes back with a vengeance. For this reason, it makes sense when moveable feasts and events are spread out, since they correspond with the transitional period from winter to spring. That reason alone makes me a little bewildered that all three signifiers of spring have fallen on the same day.
According to the weather forecast, it is going to be quite rotten this afternoon, and I don't envy those who have to row in choppy waters. It was quite nice a few hours ago, but now there is a blanket of grey cloud: I will have to decide in a couple of hours, whether I want to go down to Putney or not.