Replies to tweets vary enormously. Sometimes they are hostile and downright nasty, but at other times they are odd and weird. This is a case of an odd offer, or rather a spammer who would be biting off more than he (at least the profile picture suggested that it is a he, though we can never be sure of someone's gender identification from outward appearance) could chew.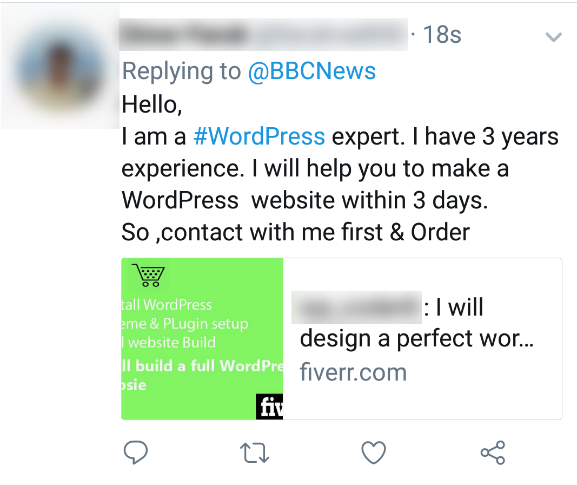 He is offering to help create a WordPress site for BBC News in three days for five US dollars. Perhaps the BBC is missing out on a fantastic if unsolicited bid for redesigning its site. Such notion however seems somewhat fanciful.
Maybe he doesn't know much about the BBC. Alternatively, could it be a case of a spammer adopting the scattergun approach? He is replying to tweets by sources with a large following to reach as many people as possible, and some of whom just might be looking for a developer to redesign or create a website for them. There may be many people who have a website and want to spruce it up, or those who do not yet have a website but would like to own one. But how many of such people would be looking at the replies to this particular tweet by BBC News? And even if there were such people, would they trust a random person replying to this tweet?
Five dollars may stretch quite a bit depending on the location and currency, but even then I have to wonder whether such spamming tactics would generate a sufficient amount for this person to survive. I suppose there are opportunities to upsell and bundle other things, so the initial five-dollar offer becomes multiples of that sum, however that still seems rather inefficient.
In any case, the mind boggles.