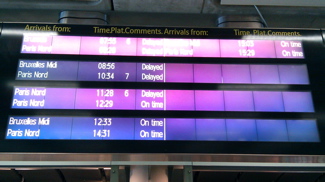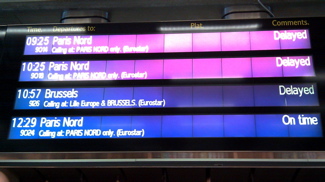 Following an incident in the Channel Tunnel, Eurostar services are disrupted. While there is no huge chaos at St Pancras station, information is scarce. I have been waiting for the 9:29 from Brussels to arrive. The scheduled arrival time in London was 10:26. For a long time, the board merely informed the train was delayed. From the e-mails I have received, the progress through northern France has been tortuous. The train was late leaving Brussels, stopped for a long time in Lille, and crawled through the Tunnel. As the train emerged on the UK side, the board finally deigned to announce the estimated arrival time, almost three hours later than scheduled.
PS: Eurostar is apparently offering a free return ticket to the passengers affected. Will it be easy to claim?
Addition: 14 October 2010
To answer the question posed above, it was very easy to claim the compensation in the form of a return ticket. Quite impressed, in actual fact: nothing like claiming something from an airline company.