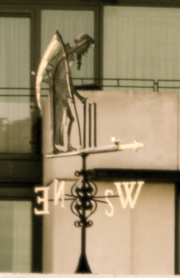 Seats for the first four days of the first Test match between England and India were pre-sold and indeed sold out, but upon learning that tickets on the final day were going to be sold at the gates on a first-come, first-served basis, I decided to go to Lord's. At £20 each for adults, it wasn't a bad price, especially as there was a lot of cricket in prospect, with India finishing the fourth day on 80-1, chasing a very big target of 458, or batting the whole day.
I used to go to the final day of the Oval Test, more than 10 years ago. The Oval Test was usually the last scheduled of the season, played in early September with a definite autumnal feeling about, and England had usually lost the series by that point. These were the good old days of calamitous England batting collapses and ineffective bowling attacks, punctuated by individual acts of brilliance or sheer grit. But I digressed.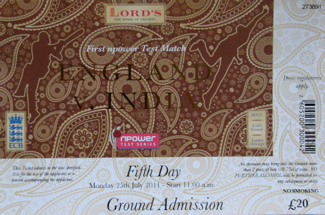 Unlike for Wimbledon, I did not have to get up at an ungodly hour, but around 5 AM to take the tube to St John's Wood. It took me about an hour to get to the gate and there were queues forming in the street with large, detached and presumably terribly expensive houses. Compared to the almost military precision of the queuing system at SW19, it was a more relaxed affair, and a much shorter waiting time in NW8. The queue shuffled along pretty quickly, with the stewards reminding the punters that it's cash only and to have the money ready, and we trickled into the grounds. We could sit more or less anywhere we like, so I chose a seat in the Grand Stand, a few rows in, in the shades. I haven't been to Lords for a very long time, and the last time I visited the Media Centre had not come into existence.
Cricket is a strategic game, and I wonder if Mahendra Singh Dhoni made a mistake in conceding quite a lot of runs on the fourth day when Matt Prior and Stuart Broad were knocking about, allowing Andrew Strauss to make the declaration with a plenty of time to bowl out India with a very comfortable cushion. Of course, it was probably forced on the captain, because of the injury to Zaheer Khan. If any side could chase a big total, it would be India (though perhaps not without Virender Sehwag), but it was asking a lot to chase over 450 runs, and equally it would have been a very arduous task to bat out a whole day. Could anyone do a Sehwag and take India to victory, or will there be a solid innings to carry the team to safety?
The Pavilion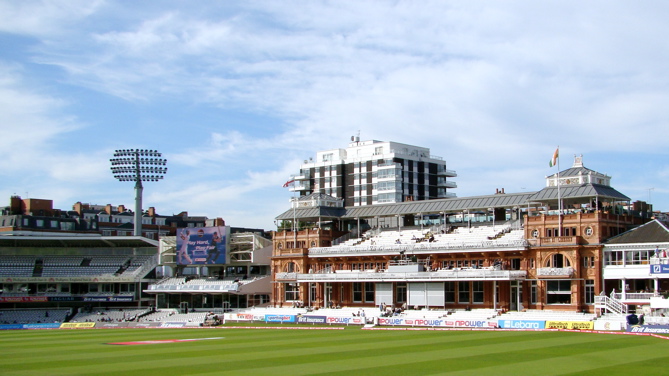 Media Centre (Nursery End)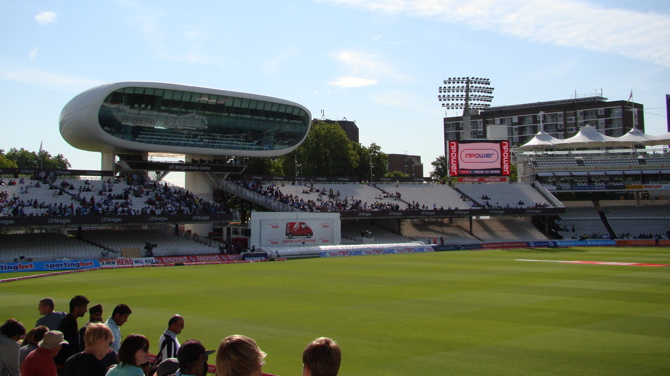 The view from the Grand Stand, where I was sitting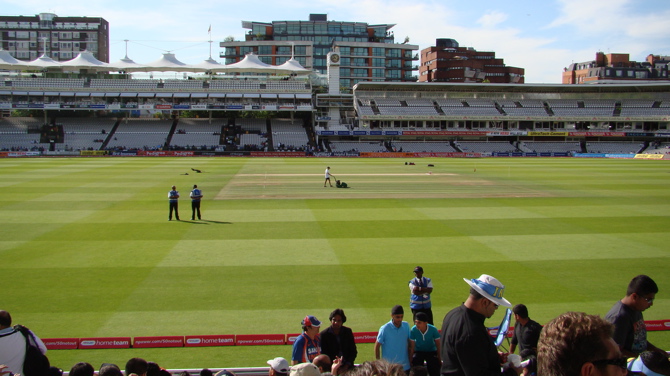 The morning started with Rahul Dravid and VSS Laxman on the crease, and if India were to draw or even win this match, one of these batsmen would have to play a big innings. The batting order changed because of injury to Gautam Gambhir and virus infection that afflicted Sachin Tendulkar, so that would was a disadvantage for India. Initially the pair looked resolute, but the bowling attack was also impressive. The first to go was the Wall, who had done well in the first innings, but was dismissed by James Anderson. This brought the badly bruised Gautam Gambhir to the crease. VSS Laxman was next to be out, caught by Bell, at short midwicket, who leapt with alacrity into the air, off the bowling of James Anderson. With three wickets down, and as the next batsman was announced, a huge cheer, more like a roar, went up. It was Sachin Tendulkar's turn.
Sachin! Sachin! Sachin! He must be used to it by now, but how can a man shoulder the burden of anticipation and adulation of a billion people? There was a groundswell of applause, anticipation among Indian fans and respect from English supporters, as the greatest batsman around made his way to the crease.
Sachin Tendulkar facing Graeme Swann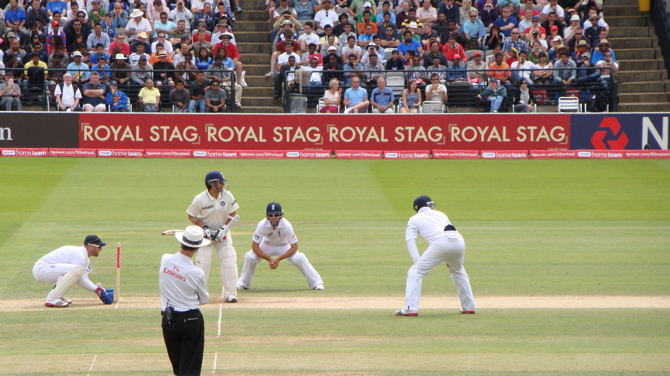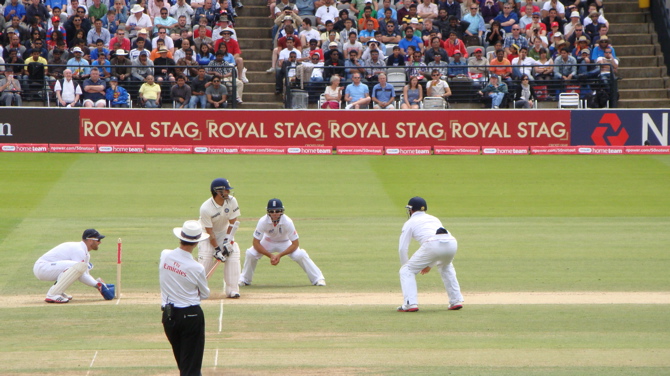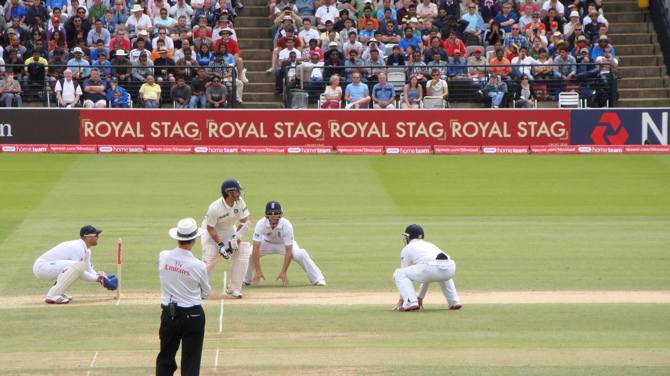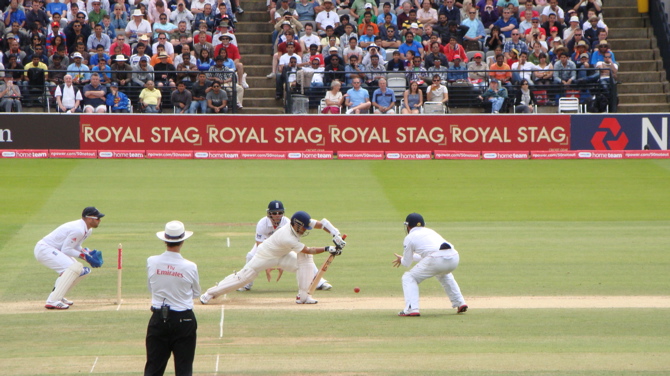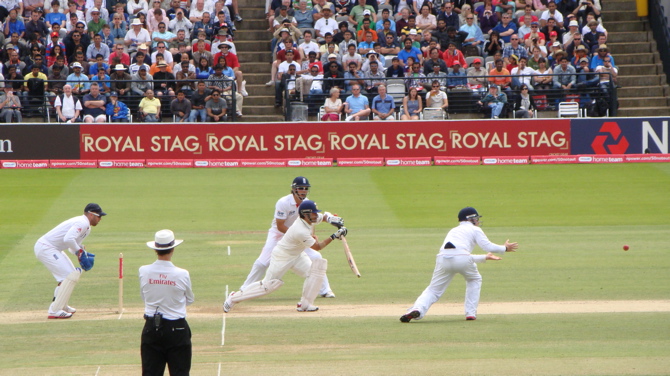 With Gautam Gambhir falling lbw to Graeme Swann, and India in a trouble with 135-4, the new batsman to join Sachin Tendulkar was Suresh Raina. If there were a cricketing god, you'd expect him to grant Sachin Tendulkar a century at Lord's. Alas, it was not to be. He was not fully fit, and he did not look too comfortable. He struggled on for over an hour, but was finally out lbw to James Anderson with 12 runs on the board, just after being dropped by Andrew Strauss and seemed plumb lbw much earlier in his innings. Yet, there was an inimitable grace and elegance about his movement, and I won't forget watching him play from the Grand Stand. Only had it be for much longer!
Among India's batsmen, Suresh Raina played very well. He was calm and controlled, despite a very good and sustained bowling attack. However, India needed someone from the top order to be like a rock, or someone to build a long and stable partnership with Suresh Raina, and no one did so. Mahendra Singh Dhoni couldn't play a captain's innings, and went rather cheaply at 16, at which point, there was inevitability about the outcome. Harbhajan Singh's slash and burn innings lasted for half an hour, and by the time Praveen Kumar was bowled by Stuart Broad on the ninth ball he faced, the writing was on the wall. Suresh Raina was the ninth wicket to fall, after running out of partners, and facing some excellent bowling, he finally succumbed to James Anderson. Even if he ought to have been out lbw earlier, his 78 was an impressive and solid innings, especially when the more experienced batsmen could not stay long enough.
James Anderson bowling from the Nursery End




The England pace bowlers were all impressive, and James Anderson was exceptional on this day. His whole over, six deliveries, as one constituted an incessant pressure on the batsman. His run up was shorter than others, so the time between the balls, especially if they are dot balls, was very short. There was no let up. In comparison, when Stuart Broad and Chris Tremlett bowled, it looked more like a duel between the bowler and the batsman on a ball-by-ball basis. In other words, there were 6 distinct mini-duels in an over. After one ball, the tension lessened, the ball was polished and passed around, and the longer run up acted like a crescendo. Throughout the day, these bowlers were excellent and a lesser side would surely have been bowled out much earlier. There were a few instances of dropped catches and lapses in fielding, but generally England looked a reasonably strong fielding team.
A few random observations
When a batsman is bowled, there is a moment which feels long, even if very short in the actual fact, between the bails flying off and the crowd stand up in unison. This was what happened when Stuart Broad bowled Praveen Kumar. This is one of those instances that being in the ground makes a total difference from watching on a television screen.
I honestly don't know the point of Mexican waves, when the match was very tense and good, mainly due to the great bowling discipline from England. Once a wave starts, it tends to go on for a while. The members of the MCC sat imperviously immovable and resolutely unfazed as the Mexican wave reached the Pavilion, and were consequently booed heartily by the rest for their non-participation.
There were a bunch of youths, a few rows in front of me, who may well be described as lager louts, except they constantly went to fetch pitchers of Pimm's to keep themselves refreshed. The sort of crowd that the lady who sat next to me disapproved in the manner only pensioners can: wearing a frown on her face, and speaking softly under a hushed voice how horrible they were. Up went the chants of En-ger-land, En-ger-land, En-ger-land and the like. It was more football terrace than Lord's, and a mix of youth, booze and jingoism.
DRS cannot be used to review lbw decisions in this series, but what would happen in the following scenario: a batsman is given out, and checks with the on-field empire that he's given out caught, sends it for a review, and the TV umpire sees that there was no contact with the bat, but was plumb lbw?
The second Test is now under way and this Test will tell more about the teams than the first Test. India was unlucky to lose its most effective bowler, Zaheer Khan so early in the match at Lord's, and the changed batting order in its second innings, with Sachin Tendulkar and Gautam Gambhir not fully fit, did not help. With a good sustained bowling attack with Zaheer Khan, I'm not sure if England would have managed to bat so well. However, England did manage to bowl out India, and the bowlers were impressive. This seems to be the key for the remaining matches: can India's batsmen score enough runs?
Added: it is England who has problems with injuries (Jonathan Trott and Graeme Swann) in the second Test.