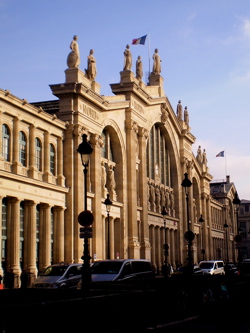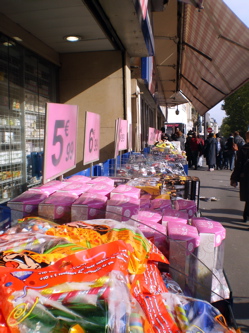 Upon arrival at Gare du Nord and studying a large map in the station concourse, I realized that Sacré-Cœur was not far away. The weather looked fair, and with not so much luggage to carry around, I decided to go there on foot.
Walking out of the station, and walking past the burger shops, brasseries, and the occasional shops of ill repute of the DVD kind, opposite the imposing facade of Gare du Nord, I reached Boulevard de Magenta. This street was full of tailors, especially those specializing in wedding attires. Then, I turned left, into Boulevard de Rochechouart, which was busier and more crowded. Shops flogging cheap and mainly nasty stuff lined up the boulevard. Lots of cheap and not-so-cheerful drug stores, to be more specific. There were also a number of street vendors loitering about with goods in their hands. The most popular items looked to be bottles of perfume. Is this a profitable venture? Or are they perhaps signalling to those in the know that they are selling something other than perfume? I remember that in Barcelona's Las Ramblas, I saw many street vendors carrying cans of coke, but I have been led to believe that they were not selling coke in the form of canned fizzy drinks. Different places, different times of the day, so I supposed these vendors in Paris were legitimate, but who knows. But I digressed.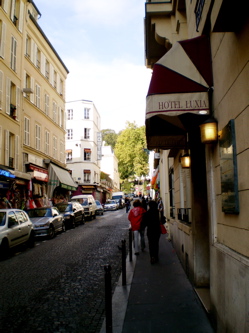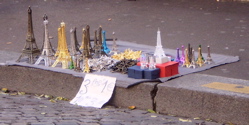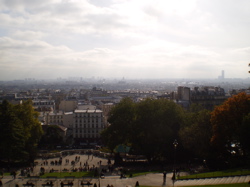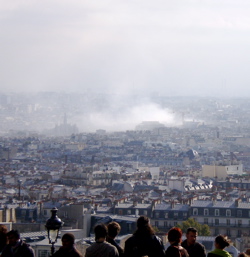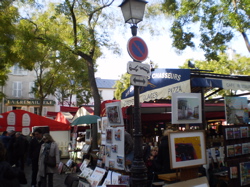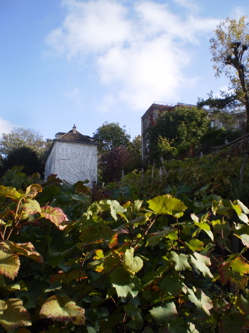 Turning right this time, into a quieter street, probably Rue Seveste, with a view of Sacré-Cœur, and a slow walk up the hill beckoned. Sacré-Cœur being one of the major tourist attractions in Paris, it was not surprising to see many tourists from various countries. And in Paris, as in other major cities, where there are tourists, there are trinket sellers. These trinket sellers are found everywhere in Paris, selling miniature Eiffel Towers and Arcs de Triomphe, and sometimes the tiny great man himself, Napoleon. They spread their wares on a rug with strings, that easily becomes a bag by pulling up the strings on four corners. When there are sightings of police officers, then these trinket sellers will quickly pick up their gear and disappear into the crowd.
The top of the hill is a great vantage to look at Paris. The view was hazy, but still, Paris resembles a doughnut: tall buildings and apartment blocks surrounding the centre. The heights of the buildings are restricted in the centre with some exceptions. Domes, spires, Eiffel Tower, Centre Pompidou, and that middle finger sticking up in the Parisian skyline, aka Tour Montparnasse, puncture the relative evenness of the centre. There was also a plume of white smoke arising near the river, somewhere central.
So far, there have been no signs of the indefinite, national strike. The transport unions got a separate deal, or something, so there were no problems with public transport.
After a cursory look at the interior of Sacré-Cœur, I left the hill, via Place du Tertre, full of portrait sketchers and restaurants. After descending Rue Norvins, then into Rue des Saules, it became pretty quiet, except for a group of somewhat bored-looking tourists led by a tour guide gesticulating exuberantly. Passing the Clos Montmartre, a vineyard in the middle of Paris, and the cabaret Au Lapin Agile, I ended up on Rue Caulaincourt. Not sure where to go next, I entered the metro station Lamarck-Caulaincourt.
I suppose I could have gone to quite a number of different destinations, but I decided to go to Gare Saint-Lazare. Don't ask me why. It seemed like a good idea then. The station was going through a major refurbishment work, and there were lots of scaffolding. Once I took a train to Rouen from this station, and the sceneries of the station and just outside were exactly like those of the Monet paintings, except that locomotives were electric and people less well dressed. The trains were running, despite the strike.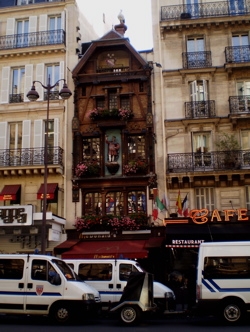 Leaving the station and ambling along Rue Saint-Lazare, I found an interesting building that seemed slightly out of kilter with the surrounding facade. More intriguingly perhaps, it was a branch of that American culinary imperialism, McDonald's. On towards Place d'Estienne d'Orves, and there were many police officers, some of them in the fearsomely full riot gear, who were closing some streets to the traffic.
Curious as to what was happening, I went down Rue Taitbout and, there at Boulevard Haussmann, I encountered the big demonstration against the austerity measures. Lots of people marching, chanting slogans, with balloons in the air. It seemed more like a family day out than a big demonstration. There were many young people, mostly likely late teens and early twenties, protesting against the pensions reform. How very far-sighted. I didn't exactly get the slogans, but it must have been something on the lines of: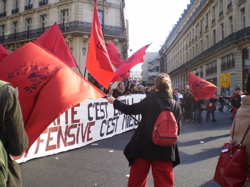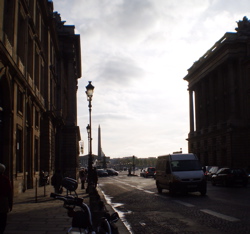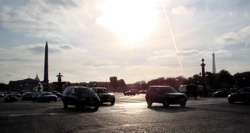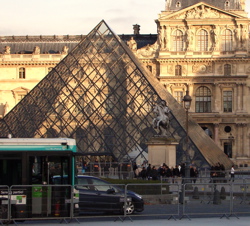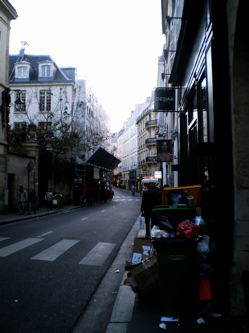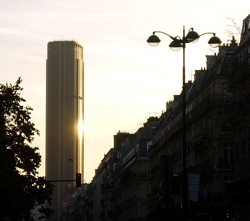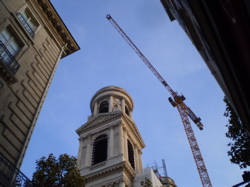 What do we want?
Early retirement with full pension!
When do we want it?
In 35 years' time!
I walked a brief moment with the protesters, really in an attempt to cross the street. Big, posh stores, such as Galeries Lafayette Haussmann, were open as if nothing was happening outside. Past the Apple Store, and Opera Garnier, I walked towards Madeleine. At this point, I was getting a bit peckish, after walking around half a day, so I popped into a cafe, where I ordered some croques. The croques weren't exactly something to write home about, but they had good mustard, and a decent cup of coffee.
There were still a couple more hours to explore the city. So walking down Rue Royale, I reached Place de la Concorde, where I took a photograph or two. Then it was either going through the Tuileries Gardens, or walk along Rue de Rivoli. I chose the latter, and made a detour to have a peep at Place Vendôme. This square with an obelisk exudes a refined aloofness, where only those with money and social standing would feel comfortable.
After feeling very uncomfortable at Place Vendôme, I went back towards Rue de Rivoli, thence to the Louvre, and its glass pyramid, which was glowing in the colour of the setting sun. Some people must still consider the pyramid as some sort of monstrosity that has permanently scarred the Louvre, but I actually quite like it. And, finally, the Seine.
Crossing to the other side, into the Rive Gauche, meant entering another Paris, different from Montmartre and Baron Haussmann's works. It's older, and the streets are narrower. The general direction was towards Saint-Germain-des-Prés. Galleries, antique dealers, antiquarian bookshops and some pâtisseries are found along Rue Bonaparte. Lovely eighteenth century books, and delicious macarons are displayed in the vitrines. I crossed Boulevard Saint-Germain, and went further down Rue Bonaparte, eventually reaching Saint-Sulpice. The sun was setting, and the sky was orange. A fair distance away, I could see Tour Montparnasse sticking up into the sky.
I had to go back to Gare du Nord, and being pretty tired, so I trudged back to the metro station at Saint-Germain-des-Prés and took the number 4 line. While there was no time for visiting museums properly, I think I managed to pack in a lot of sightseeing. It was tiring but not too bad, since the weather was perfect for walking around. If I had to choose which bit of Paris I would have explored more, then it would be Montmartre.