If it was an April Fools' Day prank, then I fell for it, but I received the following e-mail: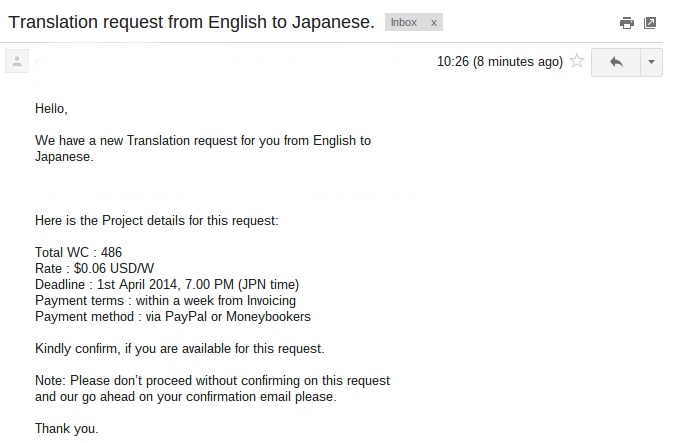 Yes, it was a circular from one of those agencies I probably will never have the dubious pleasure to work with. Note the time stamps. I received this e-mail on 1 April 2014 at 10:26 AM. As I am in London, the time is stamped in BST (British Summer Time), and the time difference between BST and JST (Japan Standard Time) is 8 hours. The quoted deadline is 19:00 JST, which is 11:00 BST, so this agency was trying to find a translator, confirm the job, and have it completed within 34 minutes, at 6 US cents per word.
I had a look at the text, which was stored on another site and there was a link to it in the e-mail (redacted): it was not impossible to translate quickly, as it was short and not particularly complex, but then it was, what would be the right expression, a piece of translation for a website in the adult entertainment sector, and I could have done with a warning. Besides, had I in a fit of madness accepted it, no one would believe that I have to do some 'research' to find the right expressions!